April 12, 2022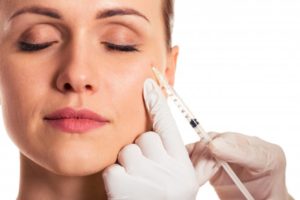 When you hear the word "microdosing," Botox probably isn't the substance that comes to mind. In reality, microdosing Botox has exploded in popularity, particularly in New York and LA. What is it, how does it work, and why has it become such a trend? What else should you know before you book an appointment? You'll find the answers to these questions and more below.
Microdosing Botox: The Basics
In a typical Botox treatment, the neuromodulator is injected into the muscles below the skin of the face, and this prevents them from making the movements that cause wrinkles. With "micro-Botox," the substance is placed less deeply, or just under the skin. As the name might indicate, this requires less Botox to be used, which is why it is also commonly referred to as "baby Botox."
What Does Microdosing Botox Do?
While traditional Botox can help reduce the appearance of fine lines and wrinkles, microdosing Botox can reduce oil production, even out the tone, decrease redness, and make the pores appear smaller.
This can create a more porcelain complexion, prevent breakouts, and make someone appear younger, but it's important to note that micro-Botox won't stamp out wrinkles. The result is more subtle, which means the patient will notice a difference, but those around them will ask, "Did they or didn't they?"
In essence, it's able to enhance the appearance of the skin without affecting the underlying muscles. Not only can it help address issues that regular Botox cannot, but it also doesn't result in that stiff, "frozen" effect that can sometimes develop. The patient will be able to move their face and make expressions just like normal after micro-Botox, except their skin will be more even and radiant.
And, just like regular Botox, a micro-Botox treatment can be expected to last about three to four months before a patient needs a touch-up.
Should You Get Regular or Micro-Botox?
The truth is that you don't actually have to choose between the two. A patient can get both regular Botox and micro-Botox in a single session. A properly trained doctor can adjust the depth and place the substance in either the muscle or just the skin depending on a patient's goals. In fact, micro-Botox can also be mixed with a filler to give the skin a nice plumping effect.
If you want to improve the appearance of your facial skin and boost your confidence, micro-Botox gives you another tool for doing so. Be sure to discuss your goals with your doctor so they can let you know if it would be a good fit for you. With Botox, a little bit can go a long way!
About the Author
Dr. Krysten Jackson is a highly trained cosmetic dentist in El Reno and graduate of the University of Oklahoma College of Dentistry, and she is also certified in Botox cosmetic. Whether you're interested in getting regular Botox to help with wrinkles or think that microdosing would be better, she's an expert you can trust to keep you safe and beautiful. To learn more about what she could do for you and schedule an appointment, click here.
Comments Off on What Is Microdosing Botox & Why Is It So Popular?
No Comments
No comments yet.
RSS feed for comments on this post.
Sorry, the comment form is closed at this time.