May 6, 2022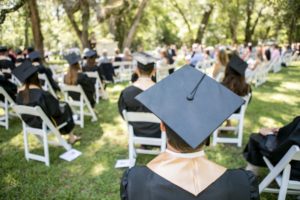 It's graduation season, and as a parent, it's both a thrilling and nerve-racking time. You're excited that your child is ready to walk the stage, but of course, you're worried about what comes next. Whether it's college, a trip, or a job that is waiting for them after they get their diploma, there are a few simple ways you can help them out this pivotal summer with a little assistance from your dentist in El Reno. With everything that is going on and changing, even the most independent child will appreciate these!
1. Give the Gift of a Brighter Smile
Over the coming weeks and months, between graduation, parties about graduation, and goodbye get-togethers for school friends who are leaving for college, one thing is certain—there will be a lot of pictures taken. An easy way you can make sure your child feels confident for each one is to give them a professional teeth whitening treatment. It will not only brighten their smile much more dramatically compared to a store-bought kit, but it will also be much safer for their enamel.
2. Schedule a Checkup & Cleaning
Your child probably has a million different thoughts bouncing around in their head right now, so it's reasonable to think that their oral health is kind of on the backburner. After consulting them to make sure it doesn't conflict with their social calendar, it would be smart to schedule a checkup and cleaning for them. This will ensure that, no matter what is next, their smile and oral health will be in good shape. The last thing anyone wants is for their plans to be thrown off by a surprise cavity! Speaking of which…
3. Take Care of Problems Now
If your child has an outstanding cavity or chipped or broken tooth, now is the time to take care of it. In a few months, they may be out of your house or even in a different state, and a small, overlooked dental issue today could turn into a big headache without the proper attention. By making sure that your child has any problems treated right away before "real life" begins, you can give them one less thing to worry about.
The summer after graduation is usually a busy one for both students and parents, so even though they might not say it, your child will certainly appreciate any help you can offer. By focusing on their oral health, you can make the transition into whatever's next for them as smooth as possible while guaranteeing they'll be ready to smile.
About the Authors
Dr. Krysten Jackson and Dr. Eric Parsons are both family and cosmetic dentists that lead the team here at El Reno Family Dentistry. They offer a wide range of preventive and aesthetically-focused treatments that can be tailored to the unique needs of a graduating student on the go, and they are eager to make this graduation season as enjoyable and stress-free as possible for both you and your child (or rather…young adult). To get in touch with our office to schedule an appointment or ask any questions you might have, our team can be contacted here.
Comments Off on 3 Ways You (& Your Dentist) Can Help Your High School Graduate This Summer
No Comments
No comments yet.
RSS feed for comments on this post.
Sorry, the comment form is closed at this time.