September 6, 2022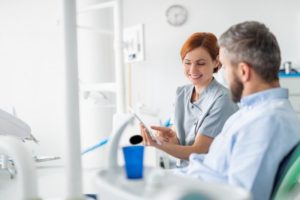 We've all been there. You get to the end of your dental appointment, and the dentist asks, "Do you have any questions?" Nothing comes to mind, so before you know it, you're sitting in your car heading home—and that's when a flood of questions comes to mind.
If you're considering getting some cosmetic dentistry, you deserve to know as much as possible before beginning your treatment. Everything will start with a consultation, and here are a few questions you can have prepared so you're ready to ask them when the moment is right.
1. Which procedures will I need?
Your consultation will primarily involve a conversation between you and your dentist about what you would like to change about your teeth. You'll likely talk generally about what you want your final result to look like, and this question should be asked to get exact clarification on which procedures your dentist believes you'll need. Do they recommend just teeth whitening or veneers and crowns? This will give you a much better idea of what the process will be like moving forward.
2. Can I start my cosmetic treatment right away?
You wouldn't want to build a house on an unstable foundation, right? The same concept applies to cosmetic dentistry—you shouldn't enhance an unhealthy mouth that has problems like cavities, decay, and gum disease. In practical terms, performing a cosmetic procedure on distressed teeth is a surefire way to have the results not last very long since the underlying issue will just get worse. If you have an ongoing dental problem, it will need to be addressed first.
3. How long will everything take?
Treatments like teeth whitening can usually be completed in a single appointment, while procedures like veneers and cosmetic crowns require multiple visits. Your time is limited and your schedule is important, so having a good idea of how long your smile makeover will take is essential to know before getting started.
4. How much will it cost?
This is a big one of course. Since most cosmetic procedures aren't covered by dental insurance, having a clear idea of your out-of-pocket expenses is especially important. In addition to getting an estimate, be sure to ask your dental team about their payment options. Many offices offer flexible financing or have in-house savings plans that can make it much easier to afford what you want without insurance.
By asking these questions, you can walk out of your consultation with the confidence that you have all the information you need to make the right decision regarding your treatment. This way, once you begin, you can just sit back, relax, and watch your new smile become a reality.
About the Practice
Dr. Krysten Jackson and Dr. Eric Parsons are cosmetic dentists who graduated from the University of Oklahoma College of Dentistry. Dr. Jackson also completed the Advanced Education in General Dentistry program there, which is considered to be one of the most elite residencies in the country. Dr. Parsons regularly trains in order to use the latest technology to offer the most advanced methods of treatment. When it comes to improving your smile, they want you to feel in control and certain from day one, so they are ready to answer all of your questions at your consultation. To schedule this appointment at El Reno Family Dentistry, simply click here.
Comments Off on The 4 Key Questions to Ask at Your Cosmetic Dentistry Consultation
No Comments
No comments yet.
RSS feed for comments on this post.
Sorry, the comment form is closed at this time.