October 7, 2022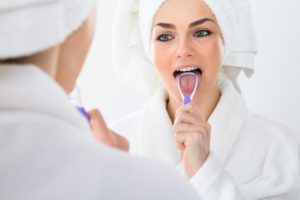 The countdown to Halloween has officially begun, which means throughout the month, candy is going to "magically" appear all around you. And if you have kids, the big night will see your home flooded with sweets as well. Thankfully, to balance things out, October is also National Dental Hygiene Month. In addition to well-known practices like brushing and flossing, here are four more that are often overlooked, but shouldn't be.
1. Time for a New Toothbrush
A good rule of thumb is that every time the seasons change, you should get a new toothbrush. The reason is that after three to four months of daily use, the bristles can start to wear down, break, and flare outward. All of this makes the brush less able to remove plaque and food debris, meaning you're not getting as deep a clean as you could. This same logic applies to brush heads for electric ones as well!
2. Keeping Your Toothbrush Clean
You wouldn't use a rag to wipe down a dirty plate and then use it to wash your hands, right? After brushing your teeth, the brush itself is quite dirty because of all the bacteria and food particles you've just removed. To make sure all that gunk doesn't end up back on your teeth, simply rinse the brush under some running water, and be sure to store it upright in a place with plenty of air circulation. This will enable it to dry so you truly have a fresh start the next time you pick it up.
3. Don't Forget Your Tongue
Brushing and flossing are excellent, but there is one part of the mouth they miss—the tongue! Just like your teeth and gums, your tongue can accumulate bacteria and excess food that can lead to issues like cavities, oral infections, and worst of all—bad breath. Thankfully, cleaning the tongue is extremely easy. Just start at the back and use your brush to gently scrape forward. You can even spend a few dollars on a dedicated tool called a tongue scraper to make the process even simpler.
4. Two is Better Than One
Around 50% of the U.S. population has some form of dental insurance, and the vast majority of plans fully cover two checkups and cleanings each year. However, many people only attend one. The thing is, plans tend to reset at the end of each year, so that unused appointment doesn't just roll over—it disappears! Both for your wallet and your smile, it's important to make the most of your plan and attend at least two preventive appointments each year. This way, your dentist can find potential problems before they turn into expensive issues you have to fix later.
Even with all of these additional steps, really effective oral hygiene takes about five minutes each day, and you only need to see your dentist once every six months. Compared to the pain (and expense) of dealing with a cavity, these practices are certainly worth the minimal effort!
About the Practice
Dr. Krysten Jackson and Dr. Eric Parsons are family and cosmetic dentists who graduated from the University of Oklahoma College of Dentistry. Dr. Jackson completed the Advanced Education in General Dentistry program there, which is considered to be one of the most elite residencies in the country. Dr. Parsons regularly trains to use the latest technology to offer the most advanced methods of treatment. When it comes to protecting your smile, they are eager to do their part and make sure you're never caught off guard by a cavity or gum disease. To schedule your next checkup and cleaning at El Reno Family Dentistry, simply click here.
Comments Off on Are You Skipping These 4 Essential Oral Hygiene Practices?
No Comments
No comments yet.
RSS feed for comments on this post.
Sorry, the comment form is closed at this time.