Dental Team – El Reno, OK
Meet Your Dental Family
When you come to El Reno Family Dentistry, you'll quickly realize that we are not your typical dental office. Thanks to our team's 5-star service, you'll feel like you're catching up with old friends at every appointment. Behind our staff's smiles are years of dental experience and a deep passion for helping people look and feel their absolute best. Before you join our patient-family, you can start getting to know everyone below.
Tana
Registered Dental Hygienist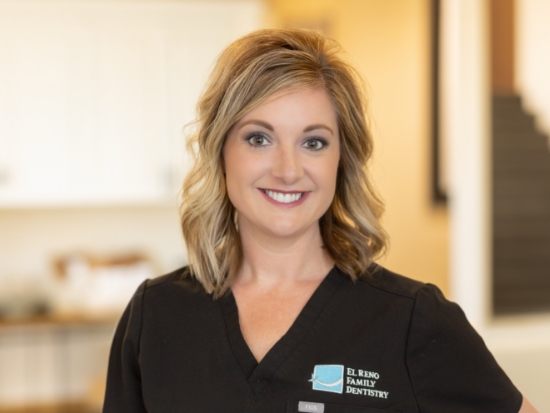 Tana, an El Reno native, has been a member of the El Reno Family Dentistry team for her entire dental career. Before earning her Dental Hygiene degree at the University of Oklahoma College of Dentistry, she started as a Dental Assistant ten years ago.
Outside of work, Tana loves traveling, being outdoors, and spending time with family and friends. In 2013, she married Brian, and they have two beautiful little girls named Legend and Jensen.
"Growing up, living, and working in El Reno has allowed me the privilege of caring for many family members and friends. What I love most about my work at El Reno Family Dentistry are the relationships I have formed. I get to work with doctors and a team who truly value each and every patient, and I couldn't be prouder to be a part of it!"
Belinda
Registered Dental Hygienist
Belinda joined the El Reno Family Dentistry team in 2015, but she has been a Registered Dental Hygienist for twenty-two years. She enjoys educating her patients and helping them maximize their oral health.
Outside of the dental office, Belinda and her husband, Jimmy, enjoy horseback riding, gardening, and spending time with their family. They have two horses and two dogs that keep them very busy!
"I truly enjoy being a part of a team that helps our patients achieve beautiful and healthy smiles."
Cassie
Financial Coordinator
Cassie has been with us since 2015. She has been a Registered Dental Assistant for over twenty years and has a background in accounting. When she began with El Reno Family Dentistry, she decided to transition into the Treatment and Financial Coordinator position to serve our patients in a different way. Getting to help directly with patient care, building relationships with our patients, and hearing stories about their lives and families are a few of the reasons why Cassie loves her job!
She married her wonderful husband, Chris, in 2017, and between them, they have six children! In their free time, they enjoy finding new places around Oklahoma to visit and different restaurants to try out.
"I can't wait to see each of you at our dental office soon!"
Kaley
Patient Coordinator
Kaley serves as our Hygiene Coordinator and enjoys getting to know all of our patients. Originally from Oklahoma, Kaley graduated from Southwestern Oklahoma State University and moved to El Reno with her husband, Tyler, in 2012. They have two amazing kids, Boone and Emery.
When she's not in the dental office serving patients, she loves to attend sporting events, relax outdoors on the patio, and spend quality time with her family.
"Being at the front desk allows me the opportunity to greet every patient. I enjoy meeting and helping those in my community as well as learning something new about dentistry every day."
Erica
Registered Dental Assistant
Originally from Minnesota, Erica received her associate degree from Herzing University in Minneapolis in 2011. During that time, she attained her Dental Assistant certification under the Dental Assisting National Board. After making the move to Oklahoma in 2014, Erica began working at El Reno Family Dentistry and hasn't looked back!
She lives in Yukon with her husband Chris and their daughter Eva Jo. She enjoys spending time with her friends and family and cheering on the Minnesota Vikings. SKOL!
"My purpose as a Dental Assistant is to educate my patients and ensure they have an enjoyable, positive experience in our dental office!"
Rylee
Registered Dental Assistant
Rylee began her dental career in 2017 and joined the El Reno Family Dentistry team in early 2018 as a Dental Assistant. She is very passionate about working with patients and truly enjoys being a part of our team!
Outside of the dental office, Rylee enjoys outdoor activities like hunting and fishing. She also loves traveling and going on vacation with her family, especially to the beach and the mountains.
"The best thing about working at El Reno Family Dentistry is the relationships I have formed with my patients and coworkers. Getting to work with three amazing doctors who provide the best dental care for our patients and who treat their employees like family is truly a blessing."
Shelbi
Registered Dental Assistant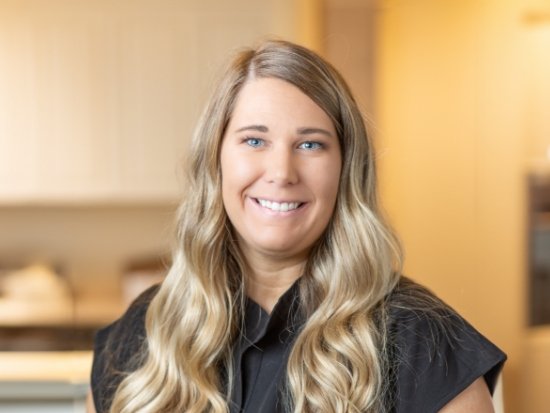 Shelbi hails from right here in El Reno and received her Associates degree at Redlands Community College in 2016. She has always been passionate about helping others and enjoys the chance to make a career of it. In fact, attending Dental Assisting school in 2018 confirmed that she found her purpose! She then began her career at El Reno Family Dentistry where she loves building relationships with patients.
"I enjoy working at El Reno Family Dentistry because they really do treat you like family. Working here doesn't feel like a job but more of an opportunity to make a difference in other peoples' lives."
Outside of work, Shelbi enjoys spending time with her husband and family. She also loves hanging out with her dogs, going camping, and kayaking.